Fractionated Eye-Contour Concentrate (FECC)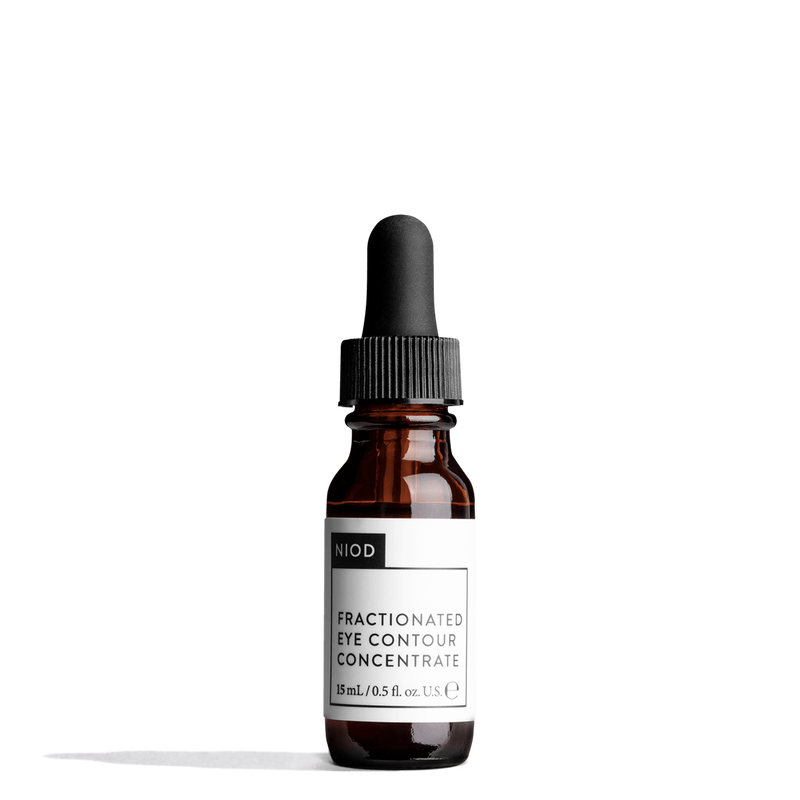 FECC
A hyper-concentrated bio-serum for the eye contour, FECC combines 28 clinical technologies to target many signs of under-eye and above-eye aging in one treatment—borrowing from advanced biotechnology, polyphenol technology, next-generation cyclic peptide technologies, marine science and modern drone delivery mechanics. This single treatment is able to target visible aging (both upper eyelids and lower eyelids) including the looks of dynamic lines, static lines, fine superficial under-eye lines (those not targeted by SNARE-target injections), loss of elasticity (especially upper-eyelids), dark circles, puffiness and textural unevenness with positive visible results starting within 3 days and improving into 8 weeks with continued use.

FECC contains 28 complex approaches to fight visible aging of the eye contour. This abstract highlights the most novel of these approaches.

HA AND COLLAGEN TECHNOLOGIES

Fibroblast Drone
Perhaps a most advanced skin technology available, this suspension contains extraordinary capsules that secure a pro-HA peptide within a polymer core that is surrounded by a Heptapeptide to specifically bind to targets before release, exponentiating delivery and effectiveness to an accuracy level previously impossible. No technology today delivers the visible filling activity of this truly complex system to support Hyaluronic Acid.

Bio-Yeast HA Pre-Cursor (also found in NIOD MMHC)
Contains oligomers of acetylated glucuronic acid derived from biofermentation acting as HA precursors.

Methyl-Glucoside-6-Phosphate (MG6P)
Perhaps one of the most advanced peptide complex technologies of today, this active improves the looks of firmness, density and elasticity in 11 days or less.

Enzyme-Reacted Glucosamine Amide HA Pre-Cursor (also found in NIOD MMHC)
Highly advanced compound is derived by enzymatic phosphorylation of N-acetyl-glucosamine through a green chemistry process acting as a secondary precursor of HA.

Full-Spectrum Fractions of Nature-Identical Hyaluronic Acid
Not to be mistaken for any form of hyaluronic acid—low- or high- molecular weight—these two forms of actual fractions of hyaluronic acid—not salts of hyaluronic acid used in nearly every topical HA product for a different purpose—these two technologies offer both short- and long-term visible filling of the looks of wrinkles while improving the look of elasticity.

Darutoside Complex
A plant-technology bio-derivative offers improvement in the looks of both upper- and lower-eyelid elasticity while reducing the appearance of folds in the upper eyelids specifically—an area previously not targeted by topical technologies.

Other Technologies in This Category: Third-generation Matrixyl peptide and Persian Silk Tree bio-technology.

EXPRESSION TECHNOLOGIES

Neuron Drone
This second drone technology encapsulates the well-studied Palmitoyl Hexapeptide, highly-effective against the look of expression lines, within a polymer layer that is then surrounded by a Palmitoyl Heptapeptide to behave like a drone for specific binding to targets, reducing peptide wastage by 90% as a direct result of this specific targeting mechanism.

SNAP-25 Pentapeptide-18 Complex
The next-generation of the famed technology, Acetyl Hexapeptide-8 (commonly known as Argireline), extends this peptide with a novel Pentapeptide-18 to reduce the signs of expression lines developed by extensive small-twitch muscle contractions, offering a 100% further efficacy index over Argireline alone.

Novel Arginine-Sustained Acetyl-Hexapeptide-30
A more advanced form of this modern peptide which was the first-ever to fight signs of ageing as a result of facial expressions.

Other Technologies in This Category: Walgerin-1 tripeptide technology, snail venom mimetic technology.

UNEVEN PIGMENTATION TECHNOLOGIES

Marigold/Yeast Ferment Bio-Complex
This biotechnology has shown up to a 94% positive response in reducing both the look of dark circles and feelings of sensitivity.

Bio-Tech Superoxide Dismutase Hydrolyzed Peptide Complex
This complex offers indirect inclusion of SOD, the body's own most important oxyradical fighting mechanism, in a first-ever stable form.

Oleuropein Zinc Salt Bio Complex
It was until recently thought that inefficient circulatory mechanisms around the eyes are the only cause of dark circles—other than the shadows created by hollowness defined by bone and fat structures. However, it has now been shown that imbalanced melanin formation also contributes to dark circles. To address this issue, typical skin-lightening technologies cannot be used since the objective is to balance and even the pigmentation and not lighten the skin just under the eye areas on a continuing basis. This superb polyphenol complex rebalances the look of skin pigmentation to its natural state. This approach does not target melanocyte function or melanin, allowing ongoing use without possibility of unintended visible lightening.

Other Technologies in This Category: Propyl Gallate, Gallyl Glucoside, Epigallocatechin Gallatyl Glucoside—target looks of both dark circles and redness.

FLUID RETENTION TECHNOLOGIES

Angiotensin I Converting Enzyme (ACE) Target Tetrapeptide
A complex peptide system, this technology reduces the look of under-eye puffiness within 15 days with continued use.

Silanetriol-Delivery Vitamin F Complex
Fast-acting plant-silicone delivery technology reduces the look of puffiness and, as a positive side effect, reduces the look of discolouration under the eyes.

Algae-Harvested Sulphated Polysaccharides
One of the most advanced form of marine technology today, this complex improves the look of resiliency and reduces the look of puffiness simultaneously through shared mechanisms of action.

Other Technologies in This Category: Niacinamide, Fraxinus Excelsior Bark Extract.

REGENERATION TECHNOLOGIES

Hyaluronic Acid Oligomer
Truly a most unique approach that uses a form of hyaluronic acid—which is ordinarily used to lubricate the skin—instead conditioned to algin with visible renewal without the inflammation and irritation associated with low-pH acids and other forms of peeling. (Side note: one of the very unique side observations about this technology is that its stability is entirely from its extremely small size that disallows outside interaction with it.)
Apply in the eye area, including upper eyelids, both AM and PM. If irritation occurs, cease use and consult a physician. Use only as directed on unbroken skin. Patch testing prior to use is advised. Keep out of reach of children.
Patch tests are an easy way to help predict if you may experience a negative initial reaction to a new product. It is recommended to perform a patch test before incorporating any new product into your regimen. We have outlined a general method for conducting your own patch test below based on the type of product.
Apply a small amount of the product onto a clean area of skin on the upper forearm.
Keep the area dry.
If the product has a specified duration of use, rinse off after this time has elapsed. Otherwise rinse off after 24 hours.
If any redness, burning, itching, blistering or irritation is observed at any time throughout the test, do not use the product.
For more product specific information, review our Patch Testing Guide.
Aqua (Water), Glycerin, Butylene Glycol, Propanediol, Hydrolyzed Yeast Extract, Albizia Julibrissin Bark Extract, Niacinamide, Dipeptide Diaminobutyroyl Benzylamide Diacetate, Palmitoyl Tripeptide-38, Acetyl Hexapeptide-8, Acetyl Tetrapeptide-5, Decapeptide-22, Oligopeptide-78, Palmitoyl Decapeptide-21, Palmitoyl Hexapeptide-52, Zinc Palmitoyl Nonapeptide-14, Palmitoyl Tetrapeptide-50, Pentapeptide-18, Acetyl Hexapeptide-30, Heptapeptide-15 Palmitate, Palmitoyl Heptapeptide-18, S-Mu-Conotoxin CnIIIc Acetate, Sodium Hyaluronate, Darutoside, Epigallocatechin Gallatyl Glucoside, Gallyl Glucoside, Ascorbyl Glucoside, Zinc PCA, Methylglucoside Phosphate, Disodium Acetyl Glucosamine Phosphate, Copper Lysinate/Prolinate, Hydroxypropyl Cyclodextrin, Superoxide Dismutase, Escin, Ascorbic Acid, Ammonium Glycyrrhizate, Polyglucuronic Acid, Ascophyllum Nodosum Extract, Asparagopsis Armata Extract, Fraxinus Excelsior Bark Extract, Olea Europaea Leaf Extract, Polypodium Vulgare Rhizome Extract, Cetraria Islandica Thallus Extract, Sphagnum Magellanicum Extract, Ruscus Aculeatus Root Extract, Centella Asiatica Extract, Calendula Officinalis Flower Extract, Arginine, Panthenol, Hydrolyzed Rice Protein, Glycine Soja (Soybean) Protein, Hydrolyzed Wheat Protein, Hydrolyzed Yeast Protein, Lecithin, Polyacrylate Crosspolymer-6, Xanthan Gum, Cetyl Hydroxyethylcellulose, Silanetriol, Sodium Dextran Sulfate, Sorbitol, Pentylene Glycol, Dimethyl Isosorbide, Citric Acid, Glycolic Acid, Lactic Acid, Lactic Acid/Glycolic Acid Copolymer, PPG-26-Buteth-26, Polyvinyl Alcohol, PEG-40 Hydrogenated Castor Oil, Propyl Gallate, Potassium Sorbate, Caprylyl Glycol, Glyceryl Caprylate, Ethylhexylglycerin, Sodium Benzoate, Benzyl Alcohol, Phenylpropanol, Dehydroacetic Acid, Phenoxyethanol, Chlorphenesin.
You may
also wish to explore
Rated

3

out of

5
by
Christine
from
Awesome product; poor packaging
I love this serum. I achieved noticeable lifting results on my upper eyelid within a few uses. Unfortunately, the lid has disintegrated, so it won't stay properly, and I get black plastic flecks in the serum itself. I put it in a plastic bag and was dismayed to see that it had leaked. I hope they change the packaging because I have lost product and am worried about air spoiling it early.
Date published: 2021-04-29
Rated

4

out of

5
by
TxTime
from
this works great on top and bottom lids
I love the way my eyes look less droopy on the top lid. Its an area I struggle with. Here is my issue- I have to take the lid off to put a drop on my finger tip. Only one drop is plenty. The bottle should last ages. But while the lid is off I have bumped it every time and spilled far too much. For the love of all that is hole PLEASE PUT THIS IN A JAR WITH A PUMP DISPENSER. I can not afford to keep spil ling it and I know I will. There are other products from DCEIM in such a container.
Date published: 2021-03-23
Rated

5

out of

5
by
chicaboom
from
Feel free to downvote me ...
... for this review not being helpful. So I didn't honestly think there was much difference in using this product. And I finished the bottle with very little fanfare and an audible "meh" and a shrug. Fast forward 3 days. Oh man, do I ever look tired. Better focus on sleep and hydrating. Then day 4, still looking like an exhausted pigeon. Day 5, same. And on and on. Well, I guess this stuff does make a difference so here I am to buy my second bottle. Does it visibly reduce dark circles? No. At least I don't think so. Does it help with fine lines, absolutely. Hooded eyelids ... ummm yes, mine are back. Do not expect to buy this and use as a standalone product - you have to find a good eye cream (read: not expensive, but *good*) and use this twice per day, which equals four drops per day.
Date published: 2021-03-16
Rated

1

out of

5
by
Np528
from
Stay away from this stuff
Not only did this not work, it actually has left the skin under my eyes severely wrinkled. I stop using it 2 weeks ago, but no improvement.
Date published: 2021-03-12
Rated

5

out of

5
by
GS
from
...
I just wanted to say that this product is amazing for my skin, especially for the lid area. I've only used for about a week and I can definitely see the difference. I always had hooded eyes, but in the past few years I have noticed that the skin became a bit dry and creepy (I am 38).This definitely made a difference. Skin feels plump and hydrated. I think it's important to say that I've used it in combination with the hydration vaccine, which I think it's another amazing product.
Date published: 2021-02-16
Rated

5

out of

5
by
DT
from
...
I've been using all Deciem products for over a year now and truly can't say enough about all of them. However, this FECC is beyond magic! I've tried many many different eye creams and serums and can honestly say that this is more valuable to me than liquid gold. It erases my fine lines, gets rid of my dark circles and tightens up my eyelids beautifully. I ran out of this when it wasn't available and tried a very premium brand eye cream tester. Not a patch on FECC. As soon as it was back in stock I ordered 2 bottles. I'll make sure I never go without it again! Thank you Deciem for making such amazing products!
Date published: 2021-02-03
Rated

5

out of

5
by
JD
from
...
Love !! Love !! I can't stop raving about this, my new holy grail product !! I have tried so many different under-eye products for help with my aging lines particularly my crows feet and after a weeks use I have noticed a significant decrease in my lines and puffines. I use it after the Ordinary's caffeine solution and it has really helped. Highly recommend especially simce I have tried so many other products.
Date published: 2021-02-02
Rated

1

out of

5
by
MR
from
I've used this...
I've used this entire bote, exactly as stated, simple enough. Took before & after pictures. Nothing happened. Nothing shrank, moved, disappeared, or plumped. Lasted me a little less than 3 months & that should be long enough to see anything. Very disappointed in this, this teeny bottle cost me over $70 incl tax & it was useless for me. DECIEM Response: Thank you for your feedback. We're sorry your experience with our FECC is not what you had hoped. While we try to make our formulas suitable for everyone, we understand some products just don't work out for some people. As an alternative, you may wish to give our Hylamide SubQ Eyes a try ❤.
Date published: 2021-01-17
bvseo_sdk, dw_cartridge, 18.2.0, p_sdk_3.2.0
CLOUD, getReviews, 12ms
reviews, product