Sanskrit Saponins (SS)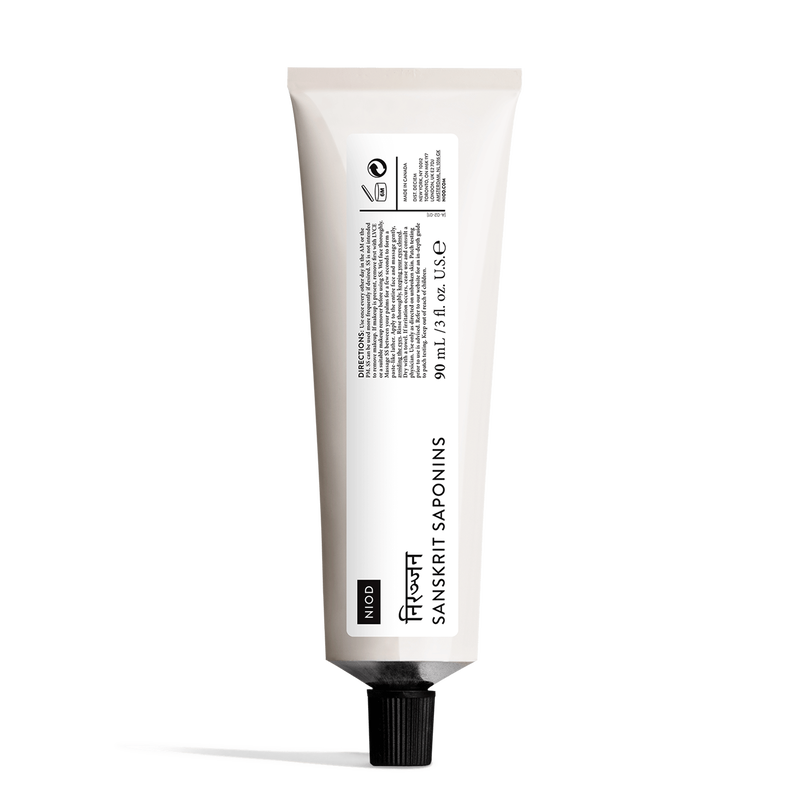 SS
SS is a viscous and intense cleaning balm for the face formulated with highly-concentrated, very-unrefined Ayurvedic plant surfactants unsupported by any modern cleaning technology. SS contains no purified or synthetic surfactants, sulphates, oils, esters or micellar technologies. It is a pH-balanced suspension of the amino acid, Arginine, in saponins from the Ayurvedic plants shikakai and sapindus mukorossi.

Cleaning started with water. Its evolution brought soap. It was later presented that soap was harsh and soap-free surfactants were introduced. Those surfactants became questionable and newer sulphate-free surfactants were introduced — while, in fact, some sulphate surfactants were far gentler and more effective. It was then suggested that surfactants were bad in general and that oils should be used for cleaning the skin instead. The modern day has gone farther to introduce micellar waters and water-free cleaning systems suggesting that water-cleaning should be less frequent to preserve skin integrity — what has become the beginning of questioning the very thing that started both life and the meaning of being clean: water.

The truth is that every advance in the journey of cleaning deserves respect. Each step criticized the previous step more so that it praised itself — but the truth is that water is good, soaps are good, surfactants are good and what there is today is good — each in its own way.

Today, cleaning — or its unnecessarily-privileged language form, "cleansing" — seems to be more focused on removing makeup than actually cleaning bare skin — of dirt, of dead cells, and of oils. While many modern products remove makeup and surface dirt very effectively, they largely leave the pores unclean of bacteria, dirt and oils. Such products also leave spent cells more intact than even through water-cleaning, discouraging the skin to behave optimally.

The alternative to these gentle cleaning products (or makeup removers) is the use of aggressive acids, alcohols and exfoliants. Products with these technologies go to the opposite extreme — they interact with the skin's bonds to peel the surface and/or specifically dry out as much oil as possible. This approach does clean the surface well but causes inflammation and encourages excess exposure of the skin's lower layers to the environment, allowing for premature ageing.

In our distant past, plant saponins were used to clean the skin well — and they did so very well. These saponins clean the surface of dead cells without peeling the skin. They delete dirt. They clean pores intensely. And they remove the skin's own oils — yes, the skin's very own oils and sebum secretions that everyone is so fearful of removing. The skin is not a cover. It is a living organ. Its function is to produce protective oils. To never clean these oils discourages their natural recycling — in a way, it would discourage the skin to engage in "exercise". And removing these oils too aggressively results in excessive dryness and a compensatory overproduction of oils.

SS is a cleaning balm that concentrates Ayurvedic saponins. They're unrefined and messy. They borrow their colour and smell from a place far away from today's madding crowd of refinement. But their near-perfect equilibrium between deep cleaning and respecting skin integrity is evidence that — somehow, somewhere — they connected to humankind.

With continued use, SS visibly targets all forms of build-up, blemishes, congestion and impurities. It is suitable for all skin types. After the first use, SS leaves the skin looking nearly pore-free and its surface exceptionally cleaned — as if it's radiating from within.

Notes:

1. While SS is pH-balanced, plant saponins (and plants in general) can mildly irritate the eyes. While this sensitivity can be avoided by keeping your eyes closed during cleaning, if you develop any mild sensitivity around the eyes, it will disappear within a few minutes.

2. Within the first few minutes after using SS, you may feel that your skin feels mildly dry. This temporary feeling is a direct result of SS having removed skin oils gently to encourage recycling of these oils. This feeling is very short-lived and, within a few minutes, you'll notice your skin returns to normal.

3. For committed users of SS, the product can be applied for a deeper cleaning treatment as follows: Remove any makeup. Clean the skin with water and dry with a towel. Wet the palms of your hand. Massage a generous amount of SS into your palms until a mild lather forms like a paste. Apply to dry skin, avoiding the eye areas entirely. Leave on for 5 minutes. Rinse thoroughly with your eyes closed. Dry with a towel.

Yešti - Ahead is not further than behind.

True learning is a form of love — it is humble. It respects that to look forward, it must look backward. The few observers of NIOD's childhood know that NIOD isn't a brand. It is a force and it has a soul. While NIOD's genetics are committed to science, its soul is ultimately rooted in learning. Perhaps the only flaw of modern science is that it grows proud and loses respect for our deserving past — but learning stays humble and looks back.

NIOD's journey will offer respect to our past with a series of formulations informally called yešti NIOD's caretakers live with exhausting standards in science. The journey of NIOD's yešti formulations is not one of a lower standard — it is instead one that allows our collective past an overdue chance to speak.

Use once every other day in the AM or the PM. SS can be used more frequently if desired. SS is not intended to remove makeup. If makeup is present, remove first with LVCE or a suitable makeup remover before using SS. Wet face thoroughly. Massage SS between your palms for a few seconds to form a paste-like lather. Apply to the entire face and massage gently,
avoiding the eyes
. Rinse thoroughly,
keeping your eyes closed
. Dry with a towel. If irritation occurs, cease use and consult a physician. Use only as directed on unbroken skin. Patch testing prior to use is advised. Keep out of reach of children.
Patch tests are an easy way to help predict if you may experience a negative initial reaction to a new product. It is recommended to perform a patch test before incorporating any new product into your regimen. We have outlined a general method for conducting your own patch test below based on the type of product.
Apply a small amount of the product onto a clean area of skin on the upper forearm.
Keep the area dry.
If the product has a specified duration of use, rinse off after this time has elapsed. Otherwise rinse off after 24 hours.
If any redness, burning, itching, blistering or irritation is observed at any time throughout the test, do not use the product.
For more product specific information, review our Patch Testing Guide.
Aqua (Water), Stearic Acid, Sapindus Mukurossi Fruit Extract, Glycerin, Caprylic/Capric Triglyceride, Arginine, Polysorbate 60, Acacia Concinna Fruit Extract, Balanites Aegyptiaca (Desert Date) Fruit Extract, Gypsophila Paniculata Root Extract, Polyacrylate Crosspolymer-6, Acacia Senegal Gum, Xanthan Gum, Pentylene Glycol, Melanin, Sorbic Acid, Trisodium Ethylenediamine Disuccinate, Potassium Sorbate, Sodium Benzoate, Caprylyl Glycol, 1,2-Hexanediol, Ethylhexylglycerin, Phenoxyethanol, Chlorphenesin.
You may
also wish to explore
Rated

5

out of

5
by
Forever skin issues
from
Best cleanser I have ever used!
I very rarely write reviews. I am in my forties now and have had issues (acne, sensitive, reactive, hormonal, dehydrated - you name it, I have it) with my skin for as long as I can remember since grade 6. I literally have tired everything from topical, medicinal, natural, pills and spent thousands and thousands of dollars trying to find something that would help. Even recommendations from dermatologist, naturopaths and estheticians have barely helped my complicated skin. My skin needed something different and I came across this product as I was on the website purchasing the Ordinary Products. I have been using this cleanser, after I use the Ordinary Sqaulene cleanser to remove my make up first, and all I can say is WOW. My skin feels soft, not dry and dehydrated. It has a glow and actually has help to calm my skin and has helped to decongest my pores, reduce the look of acne scars and removes the redness from my skin. I haven't had any breakouts happen since using either. I have been using it now for 2 weeks as it was a progression to get to this stage, but I felt compelled to write a review since it has changed my skin dramatically. I use the Hylamide SubQSkin and honestly, I am grateful for coming across this as my skin feels and looks much better than it has in decades. Deciem, please never change or discontinue this product! Please keep producing your simple formulas as I started using your products since so many products are too complex and cause so many issues with my skin. Thank you!
Date published: 2021-03-23
Rated

5

out of

5
by
Anonymous
from
This is the best true cleanser out there
I am 46 yrs old and have had acne, rosacea, and sensitive red skin forever. I had stopped washing my face all together because every cleanser, even non-foamy non-soap, would dry my face out. I have been doing oil cleansing. This SS product is really good. No, it doesn't take makeup off (use Hylamide Cleanser for that), but it really cleans my skin, reduces red irritation, doesn't dry my skin out, and I have less acne concerns now. Deciem and The Ordinary products have made a huge difference in my skin.
Date published: 2021-03-19
Rated

2

out of

5
by
CH
from
I don't love...
I don't love this. It does clean my skin and it feels okay after, but not really any better than a much less expensive cleanser. It...doesn't smell great. A lot of people say it smells vaguely like chocolate but I'm getting more curdled chocolate milk left out in the sun notes. And the packaging is absurd in terms of controlling how much product you get and in limiting wasted product. With these kinds of issues I'd say this had better rock my world in terms of results and that's just not s thing here.
Date published: 2020-12-20
Rated

5

out of

5
by
MS
from
I've been using...
I've been using this every other night for about a month and it has made such a difference in my skin. I have very sensitive, reactive skin and experience congested pores on my forehead and cheeks. After the first use of this product my entire face was smooth and glowing. While it hasn't eliminated all my concerns, it has contributed to an improvement in my skin's overall texture. It really cleans deeply and gently
Date published: 2020-11-12
Rated

5

out of

5
by
CK
from
...
What an amazing product! I've always thought of cleansers as a variable in my skin care routine. I would get whatever I could find on sale. Sanskrit Saponins has changed that forever. I've been using the product for about a week and the difference in my skin is remarkable. My other NIOD products are fully absorbed and my skin has a glow and youthfulness I thought I was long gone. At 68 years old my skin is luminous with remarkably reduced wrinkles...even the ones that have been my "friends" for years. I am now a loyal NIOD customer from start to finish!
Date published: 2020-11-05
Rated

5

out of

5
by
JH
from
...
Wow. Just wow.I have been suffering with adult cystic acne, redness, inflammation & irritation for a few years, and I've had rosacea all my life. I thought enough was enough and began using products from The Ordinary, which have helped somewhat but didn't quite get my skin where I wanted it to be.I bought this in an attempt to go a gentler route to help calm redness and acne by giving my skin a deep yet gentle and natural cleanse. It certainly paid off and my skin seemed to drink in all other treatments applied afterwards and made products which previously made my skin tingle sink in with no irritation at all. I would highly recommend and have paid far more than this for cleansers which have done far less. Exceptional product.
Date published: 2020-09-09
Rated

5

out of

5
by
SC
from
...
Brilliant. Have been using 4-5x a week for a few months now. Has completely eliminated major congestion on my chin and nose that I've been battling for 20yrs (I am 36 with combo skin prone to dehydration). Skin feels so smooth and refreshed after use, honestly it feels like I've had a facial after using this. All my serums/treatments soak right in and work better since using SS. I absolutely ADORE this cleanser and feel bad for the consumers that don't know how to use it properly or aren't familiar w their skin to see what this really does. A+++, NIOD is simply the best.
Date published: 2020-08-27
Rated

5

out of

5
by
HH
from
I have really...
I have really been pleasantly surprised by this product. First. I must say that I use this product at night and after cleansing first with the squalane cleanser. Then I do as the directions state and rub the balm between my palms until it forms a paste. I then apply to my face, leave it on for five minutes and wash off. The smell isn't the greatest but what it lacks in great smell, it more than makes up for in product performance! This makes my face feel super clean and even gives me a glow before going to bed! It's a shame to waste that glow on my pillow but luckily my skin still looks radiant in the AM when I wake up! I highly recommend this product for anyone who wants to SEE your face begin to transform in the quickest of ways!!! Please don't stop making this product! My skin is truly thankful! DECIEM Response: We are so happy you are loving the NIOD Sanskrit Saponins! Thank you for the lovely review. ❤
Date published: 2020-04-15
bvseo_sdk, dw_cartridge, 18.2.0, p_sdk_3.2.0
CLOUD, getReviews, 13ms
reviews, product